POR LARRANAGA CIGARS
Por Larrañaga is also a brand with a long history. Founded in 1834, it enjoys a well-deserved reputation for its quality and the attractiveness of its presentation.
The tobacco for the Por Larrañaga cigars all come from the Vuelta Abajo region. All three methods are used in the production of the cigars – 'totalmente a mano, tripa larga' results in completely hand-made long fillers, 'totalmente a mano, tripa corta' – completely hand-made short fillers, and 'mecanizado' – machine-made cigars.
P. LARRAÑAGA MONTECARLOS
Format: Deliciosos
Length: 159 mm
Ring dimension: 33 mm
SMOKING TIME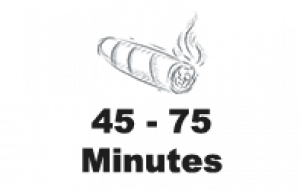 AVAILAIBLE POR LARRANAGA CIGARS